Production and Company structure
In der Waesserscheid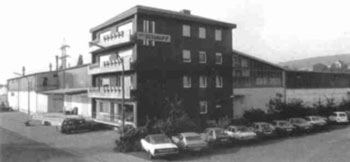 our main plant "In der Wässerscheid"
With the booming export of bikes to the USA the building erected after the war grew too small so that the production was moved to a new site close to the railway. This building houses the painting plant, the wheelbuilding, the assembly lines, shipping, the offices for sales and customer service.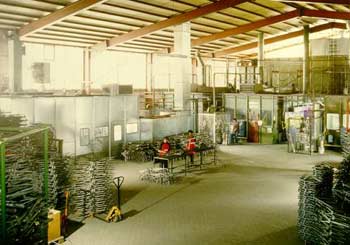 painting plant
The painting plant consists of a fully automated 4 cabin electrostatic wet paint section and a semi-automated powder coating section. After a lot of R&D Schauff can produce frames with colorful wet paint with a final application of shiny or flat clear powder coating. The wheels are being laced with Holland Mechanic machines. Before final truing the wheels are pre-set with a special robot, so that the break-in loss of tension during the first 100 km is reducud to about 30%.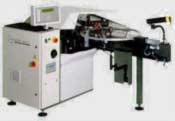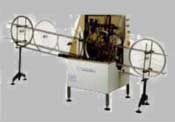 wheelproduction
After painting frames are aligned to a few 1/10 of a mm by 3 CNC robots. The bottom bracket threadings are cut by robot which is unique in the bicycle industry. The same robot also assembles the cartridge type BB-units. Later on the bicycles are assembled by hand and after final inspection all bikes are "mated" with their specifications list and the serial numbers of their frames in the Schauff computer system. This enables Schauff to track all bikes from the production to the customer and helps to find the right sparepart for this particular bike, if the need arises.